Southern is a leader in waste reduction and recycling, keeping a host of materials out of the general waste stream including single stream materials, e-waste, construction materials like concrete, asphalt, wood, and metals, landscape debris, fluorescent bulbs, batteries, mattresses, food scrap, and gently used furniture.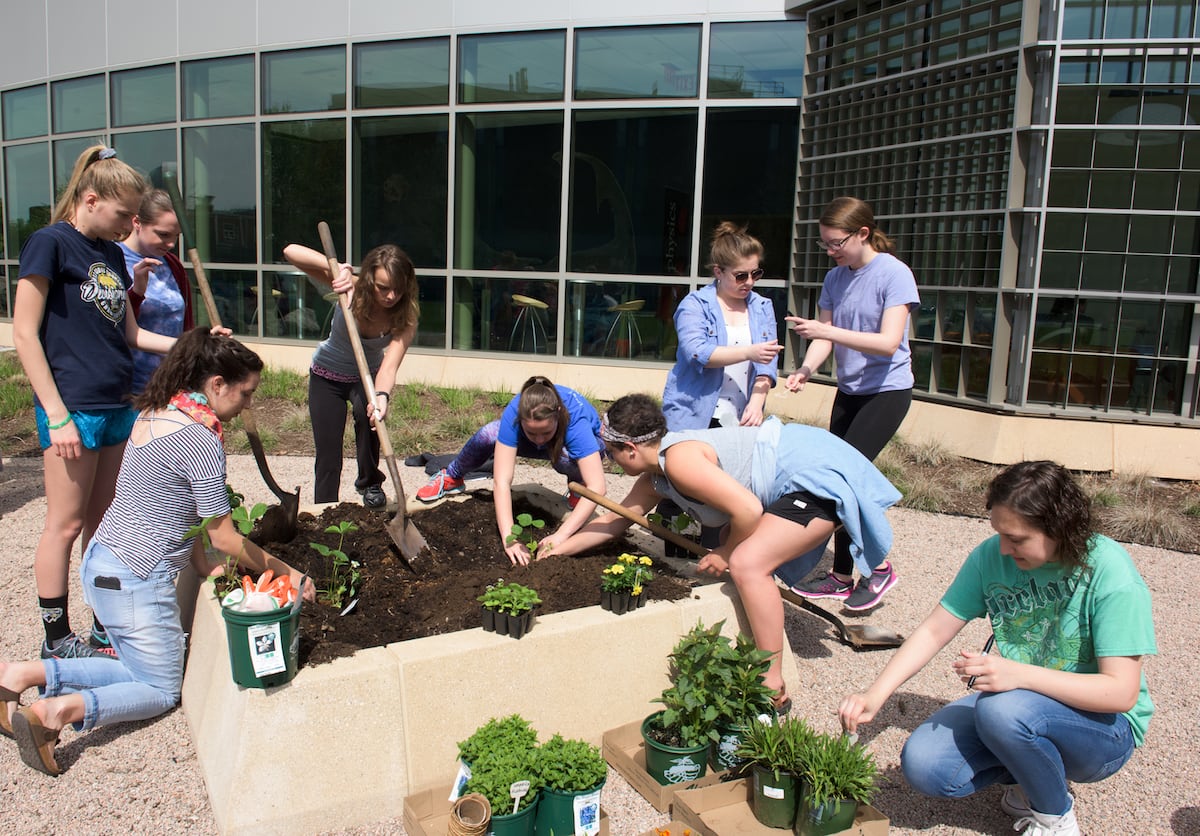 Southern is nationally recognized by the Princeton Review and Sierra Magazine since 2014 for campus greening, Southern has lowered its carbon footprint 12% below the 2008 benchmark year for emissions caused by heating, cooling, and powering campus facilities, and for fueling the campus fleet.
Southern is part of a coalition of colleges and universities across the United States and internationally that have formally committed to climate leadership, net-carbon neutrality by 2050, and actively engaging campus and surrounding communities in climate resilience and adaptation.
Highlights
In early summer, 2017, Southern President Joe Bertolino signed We Are Still In, joining over a thousand business leaders, university presidents, mayors and governors to support climate action to fulfill the Paris agreement.
Southern is home to two LEED Gold buildings: the Academic and Laboratory Science Building and SCSU School of Business.
Sustainability Efforts at Southern
Single Stream Recycling
Bottles, cans and cardboard recycling can be placed in the same recycling Single Stream Recylcing bins.
Compost Happens!
Compost Happens!, student-run composting program at Southern, diverted 400 pounds of food from the waste stream. Volunteer offices and departments collect compostable food scrap like banana peels and apple cores in collection bins provided by the Office of Sustainability. Student volunteers collect the materials each week and bring it to aerated tumblers located at the Campus Community Garden.
Swap Shop
The Swap Shop provides free office supplies to campus departments. Unused or gently used items are donated by departments who no longer need them. Items include tab dividers, staplers, desk organizers, binders, and more. Within four years, the Swap Shop has saved more than $125,000 for university offices and departments.
Campus Community Garden
Located behind Davis Hall, the Campus Community Garden faces south and is bathed in bright sun all summer long! We grow tomatoes, squash, corn, eggplant, cucumbers, lettuce, kale, herbs, peppers, beets, raspberries, wildflowers, and more. We use organic gardening methods in the Campus Community Garden. No pesticides or synthetic fertilizers are used. When a damaging pest or mildew appears, we work with 100% natural solutions to solve the problem. This is done through incorporating barrier or repellent plants, beneficial insects, or do-it-yourself natural fungicides.
In Summer 2017, our partnership offered a community garden nutrition program, providing weekly lessons in gardening, cooking, and nutrition, as well as a weekly share of fresh produce to volunteer families from nearby neighborhoods like West Rock and Newhall. This season, we donated over 800 lbs. of fresh produce to nearby communities and soup kitchens.
Every year, we donate hundreds of pounds of the garden's fruits, vegetables and herbs to local soup kitchens like St. Ann's Soup Kitchen in Hamden.
Recyclemania
Recyclemania is an annual friendly competition and benchmarking tool for college and university recycling programs to promote waste reduction activities to their campus communities. Over an 8-week period, schools report recycling and trash data which are then ranked according to who collected the largest amount of recyclables per capita, the largest amount of trash per capita, the least amount of trash per capita, or have the highest recycling rate. With each week's reports and rankings, participating schools watch how their results fluctuate against other schools and use this to rally their campus communities to reduce and recycle more. 
America Recycles Day
In November, an information table is set up to celebrate America Recycles Day. Students help spread awareness by manning the trash and recycling bins to demonstrate what items can be placed in the units. Giveaways like stickers and recycled key chains are handed out to everyone who stops by the table in the Adanti Student Center and took the pledge to recycle!
Annual Electronic Waste Drive
Each year, the Recycling Center hosts an electronic waste drive. This allows students and staff to drop off their unwanted items such as laptops, computers, typewriters, and TV's without being charged!